Friday, 14th July 2017  Wexford County, Ireland
In-depth, extensive noise survey
On foot of a number of complaints from the public of noise nuisance from wind farms in north Wexford, Wexford Co Co commissioned RPS Engineering in early 2016 to carry out an in-depth, extensive noise survey of the sound emitting from adjacent wind farms and their wind turbines.
The wind farms included in the noise survey were;
1.    Gibbet Hill, planning ref: 2009 0266 – view Gibbet report (PDF,  8.84MB)
2.    Knocknalour, planning ref 2011 0504 – view Knocknalour report (PDF,  24.7MB)
3.    Ballycadden, planning ref 2009 1730 – view Ballycadden report (PDF,  12.8MB)
4.    Ballynancoran, planning ref 2003 3444 – view Ballynancoran report (PDF,  24.6MB)
Map of the four wind turbines and the position of the individual turbines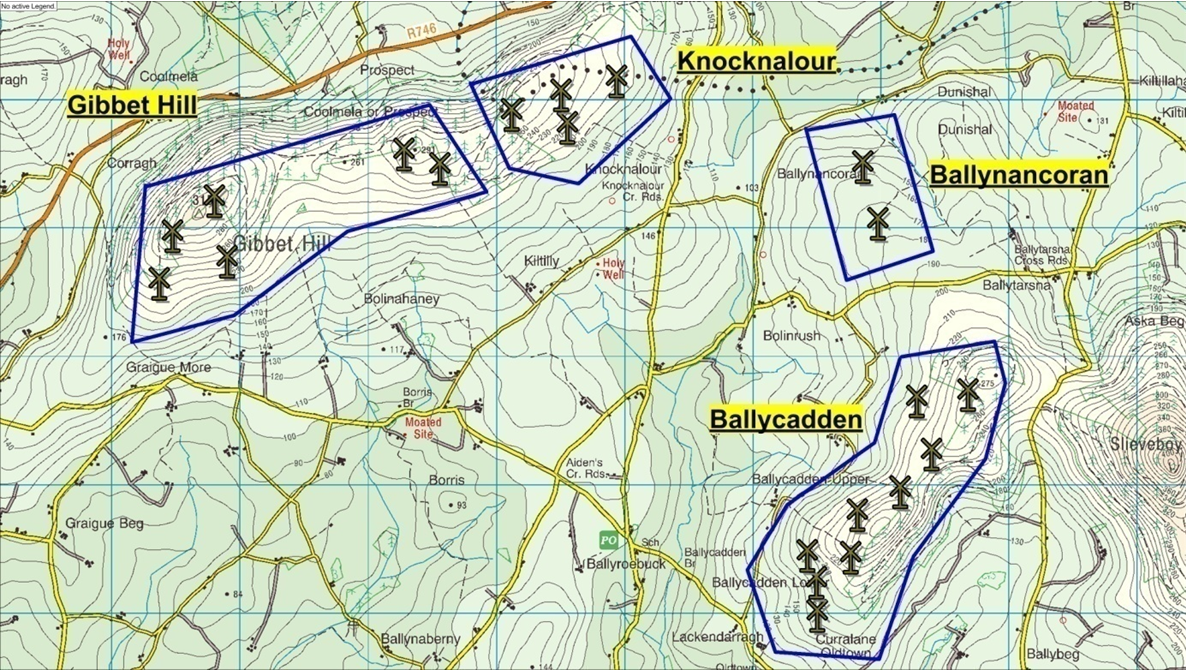 The Survey
The scope of noise survey carried out, exceeded the requirements of the DEHLG noise guidance for wind farms and the requirements of most countries with well developed wind legislation. It involved inter-alia the continuous simultaneous acoustic monitoring at 4 wind farm sites, and eventually involved 13 noise meters being simultaneously deployed. In addition to noise meters a number of rain gauges and 10 metre high wind speed masts were also utilised to gather weather data.
The extended duration of this noise survey, 8 weeks at 8 sites and over 6 months at 3 sites, and the wide extent of noise parameter measurements and meteorological parameters carried out, ensured that account was made of practically all environmental and meteorological conditions experienced at the sites during the noise survey, such as differing wind speeds, directions, air temperature and particular meteorological conditions as experienced at the sites. This included the measurement of noise during periods of winter time cold temperatures with little or no wind (temperature inversions) so as to measure the noise impact during possible worst case scenarios.
Noise Survey Parameters
The survey required the following measurements to be carried out at the 13 measurement sites,
L(A)Eq, L(A)Min, L(A)Max, L(A)Peak, L(C)Eq, L(C)Min, L(C)Max, L(C)Peak, L(Z)Eq, L(Z)Min, L(Z)Max, L(Z)Peak.
L1, L5, L10, L50, L90, L95 and L99,
All of 1 and 2 above to be carried out at Fast time weighing,
1/3 Octave measurements from 6 Hz to 20 KHz,
Narrow Band Fast Fourier Transform (FFT) analysis extending from 0 Hz to 200 Hz,
Analysis for amplitude modulation,
Both 5 and 6 analysis above are to be carried out at one or two measurement sites at each wind farm for a minimum period of 2 hours, during the noise survey with environmental conditions suspected to result in tonal elements or amplitude modulation,
Wind speed and direction at 10 metres is to be recorded during the survey,
Rainfall occurrences, time and date and amounts and at each wind farm are to be recorded,
Audio was also recorded at each site at a number of occasions at a sufficient sampling and bit rate to allow further analysis, eg FFT and amplitude modulation.
This study also includes an assessment report for each wind farm addressing their compliance regarding noise emissions under the following headings:
Compliance with planning conditions on the Wind Farms being tested and or predicted sound levels at noise sensitive locations as per the planning application submitted EIS,
Compliance with the Dept of Environment, Community and Local Government, Wind Energy Development Guidelines 2006, in so far as they relate to noise standards,
Comment on the sound with regard to noise standards in
– UK and other countries with well developed wind energy infrastructure and regulations
– WHO noise limits for night-time noise
– Presence of tones, low frequencies, amplitude modulation
– On the likelihood of noise nuisance as per Section 108 of the EPA Act No 7 of 1992.
The survey was carried out in accordance with best international practice and in accordance with the most up to date Institute of Acoustics guidance for noise measurements of wind turbines/wind farms. This also included the anticipated recommendations of the Institute of Acoustics guidance document on Amplitude Modulation (IOA Noise Working Group (Wind Turbine Noise) Amplitude Modulation Working Group, Final Report, A Method for Rating Amplitude Modulation in Wind Turbine Noise), which was published in August 2016, during the noise survey, and included reference measurement methodologies, instrument placement, signal analysis, etc.
Public access to raw data
All of the raw the acoustic and audio data utilised in the analysis of these reports is available to the public on request.  Due to the attendant problems the public may encounter with downloading online, very large data files associated with the raw data, Wexford County Council will be making the data available via portable hard drives. So as to protect both Wexford County Council and the end user from computer viruses etc, ensure IT security and to prevent corruption of the data, Wexford Co Co will copy the raw data from the Wexford County Councils master copy on to a new portable 250 GB hard drive, which will be supplied at the purchase cost of the hard drive.
The Software to access the raw data files is available to download from the following websites:
Raw Noise Data Files
Bruel & Kjaer Measurement Partner Suite 
Raw Weather Data
NRG Systems Symphonie Data Retriever Software
Re-Use of Public Sector Information
Re-use of Public Sector Information Regulations 2005 (SI 279 of 2005)
All of the information featured on this website and the raw data is copyright of Wexford County Council unless otherwise indicated. Wexford County Council complies with the regulations on the Re-use of Public Sector Information, and we encourage the re-use of the information that we produce.
You may re-use the information on this website and the raw data free of charge in any format. Re-use includes copying, issuing copies to the public, publishing, broadcasting and translating into other languages. It also covers non-commercial research and study.
Re-use is subject to the following conditions:
•    the source and copyright must be acknowledged in cases where the information is supplied to others
•    the information must be reproduced accurately and fully
•    the information must not be used in a misleading way
•    the information must not be used for the principal purpose of advertising or promoting a particular product or service
•    the information must not be used for, or in support of, illegal, immoral, fraudulent, or dishonest purposes
•    the information must not be used in a manner that would imply endorsement by Wexford County Council or in a manner likely to mislead others
•    any Wexford County Council crest, logo or mark must not be reproduced except where such crest, logo or mark forms an integral part of the document being re-used
•    Wexford County Council is not liable for any loss or liability associated with the re-use of information and does not certify that the information is up-to-date or error free
•    Wexford County Council does not authorise any user to have exclusive rights to the re-use of its information
For more details on information held on our website, please contact out FOI officer.
Next Step
Copies of the reports have been sent to the complainants and the wind farm operators. Wexford County Council is currently assessing the contents of the reports and following evaluation of the results Wexford County Council will issue further updates in due course.
Further Information
For further information please contact brendan.cooney@wexfordcoco.ie , Senior Executive Scientist.
Source: Wexford County Council